The NOAA Weather Program Office (WPO) is currently accepting proposals for the FY24 Notice of Funding Opportunity (NOFO). This year's NOFO will fund approximately three to six new projects totaling up to $2 million per year through the Climate Test Bed and Fire Weather competitions and is published on grants.gov.
The grant opportunity for the FY24 NOFO can be viewed here. Additional FAQs about the competition have been posted below.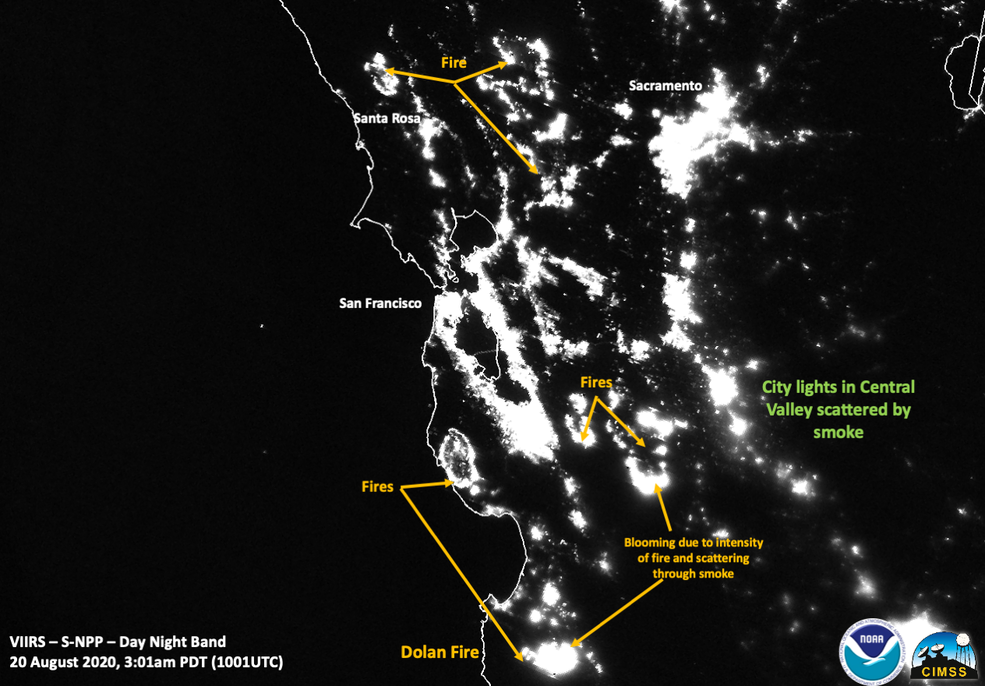 Frequently Asked Questions
Can WPO Staff participate in projects as points of contact or subject matter experts?
Program office personnel cannot participate in research projects in this fashion. For a potential federal collaborator, we recommend you look to NOAA laboratories, and the National Weather Service.
My research focuses on AI and Data Science for wildfire spread prediction, wildfire risk prediction, and predictive models for wildfire air pollution, and I am planning to submit a proposal to the NOAA WPO FY2024. I have questions about the WPO proposal. Can we schedule a phone call to discuss my research idea?
You are at liberty to write and submit a proposal but that we can not provide additional specific guidance to any one PI.
Can the EPIC contract team provide support letters for Fire Wx proposals?
The proposed projects can plan to collaborate with EPIC contractors without listing them as collaborators. In the proposal, a separate paragraph can be included to list proposed tasks, timeline, and proposed support from EPIC software engineers that if the proposed tasks can benefit from EPIC collaboration. The EPIC team can work with the successful proposal to solidify the plan once the proposal is selected.
Can EPIC provide support to a project using WRF as the modeling framework?
Unfortunately, EPIC can only provide support to funded projects using the Unified Forecast System (UFS) as the modeling framework.  However, a number of fire weather modeling capabilities are being integrated into the UFS: (1)  the UFS team has started transitioning the HRRR-Smoke smoke emission, plume rise, dry and wet removal simulation capabilities into the the Common Community Physics Package (CCPP) framework; (2) the atmospheric column chemistry from the EPA's Community Multiscale Air Quality (CMAQ) modeling system is being integrated into the UFS Weather Model; and (3) the fire module of the Weather Research and Forecast (WRF) model (WRF-Fire hereafter) into the UFS with a  National Unified Operational Prediction Capability (NUOPC) cap (on-going). These capabilities are being integrated into the UFS Short Range Weather Application and will be released to the community once mature.
The NOFO states: "Federal employees may serve as co-PIs or co-Investigators (co-Is) but their salary costs are ineligible expenses to be covered by awards from this NOFO." Our non-NOAA government lab is entirely soft-funded, does this disqualify salary costs for all federal employees or only those on hard salaries?
Yes, the statement disqualifies salary costs for all federal employees. Additionally, Section II.C in the NOFO states, "Inter-Agency Agreement (IAA) fund transfers to non-NOAA federal agencies are not permitted under the funding opportunities in this notice. See section III.A for more details." Therefore, non-NOAA federal agencies cannot be funded through this NOFO.
Do we need security clearance for international collaborators?
Grantees are required by federal export laws (EAR, ITAR, sanctions), and as reiterated in a reinforcing DOC grant condition, to comply with all export laws.  If there is a foreign collaborator working without compensation, then the grantee must ensure compliance.
The Fire Weather Competition mentions wildland fire activity, however, prior work has shown a significant distinction between wildfire emissions and those from either prescribed burning or crop residue burning in the US. Is this distinction something that would be appropriate to address in our proposed work or does this call only target wildland fire activity?
Yes, it is appropriate if the distinction between wildfire emissions and those from either prescribed burning or crop residue burning in the US is addressed in your proposed work.
Are there existing specific fire weather components (e.g., models) within UFS? Does UFS currently produce short-term forecasts of fire weather-specific metrics (e.g., hot-dry-windy index, vapor pressure deficit, fuel moisture)? If fireweather components do not exist, are they under development?
No, there are no existing fire weather components within UFS, and UFS does not currently produce short-term forecasts of fire weather-specific metrics. A UFS-Fire model is under development currently that will be a coupled wildfire-weather fire behavior model that is expected to reach a readiness level of 6 by 2025.
Is there anyone else that we should contact to get information about fire weather components and products of UFS?
Contact WPO's EPIC Program Manager, Maoyi Huang (maoyi.huang@noaa.gov), for more details about fire weather components and products of UFS.
Is this NOFO interested in hurricane reanalysis products?
The CTB Competition does not have a strong interest in hurricane reanalysis products.  HURDAT serves the current needs, and undergoes revision/QC by NHC and AOML.
Both competitions require the use of UFS. Can we access existing runs for analysis, or do we need to conduct new simulations using UFS? If new simulations are necessary, is there a way NOAA can assist with HPC or computational costs?
Should we include a NOAA collaborator, despite the readiness level of the proposed project being relatively low?
A NOAA collaborator, especially for a lower RL project, is not necessary. However, if a NOAA collaborator is identified, including a NOAA collaborator is welcomed.
Does WPO fund Federal institutions?
Federal employees are unable to receive funding toward their salary, and Federal contractors may not request funding toward their salary to perform work directly for their federal agency. Cooperative institute employees are eligible to receive funding for their salary as university employees. Federal employees may not request funding for travel to conferences, workshops, etc. Federal employees may only request travel funding for project-critical travel for field work sites. Federal agencies may request funding for infrastructure support such as costs of hosting a non-NOAA team member, purchasing project-critical equipment, or travel for participants in a project-critical testbed activity. The sum of these costs must total no greater than 20% of the total project budget. Funding to cover overhead costs charged by Cooperative Institutes or NOAA Laboratories does not apply to this 20% cap and is not limited. Funding for testbed evaluations may include travel expenses for test subjects, such as NWS forecasters. However, after proposal selections are made, WPO will coordinate with NOAA testbed managers to evaluate the need for subjects to participate in upcoming planned testbed experiments. If multiple projects or other funding sources are expected to support a sufficient number of participants, then the requested amount of participant travel support may be negotiated downward for one or more projects. The proposed project's total costs must include all requested internal costs, including infrastructure, computing, equipment, and office space costs. If a NOAA federal institution is requesting any funding, the federal collaborator should submit a letter explicitly requesting the funding (one per collaborating institution requesting funding). NOAA Federal collaborators not requesting funding are no longer required to submit a letter of support. Instead, each collaborating federal institution should submit a signed Collaborator Acknowledgement Form (attached to the NOFO on grants.gov). If the proposed project intends to participate in a NOAA testbed at any point, then the local testbed manager is considered a collaborator and should submit a Collaborator Acknowledgement Form.
Does WPO fund Federal collaborators?
The following costs for NOAA federal collaborators are eligible for funding through this NOFO: 
project-related travel for federal co-PIs (including to field sites and critical project meetings, but excluding travel for conferences, workshops, etc.);

infrastructure funding required by a NOAA organization hosting a non-federal PI or co-PI at a NOAA federal facility (e.g., a NOAA Cooperative Institute employee, such as costs for federal office space or computer access), including agreed-upon overhead costs;

equipment necessary to complete the project; project-critical travel for PIs and Co-PIs, excluding conference and seminar travel;

and travel for NWS forecasters in support of project-critical testbed activities. 
No other direct funding for Federal institutions, including salaries for Federal employees, will be considered as part of this funding opportunity.  If the proposal is requesting any funding to support NOAA federal collaborators, then the proposal must include a signed letter from that NOAA host organization's director requesting such funding.  If institutional indirect (overhead) charges are included in the budget, the applicant must have an approved negotiated Indirect Cost Rate Agreement and must include it as a part of the application package. Any standard Laboratory overhead costs at this pre-agreed-upon rate (such as those required of affiliated NOAA Cooperative Institutes) may be requested as part of the proposal's budget. However, the sum of any other costs requested by federal collaborating organizations must not surpass 20% of the total proposed budget. Any costs for federal organizations should be clearly identified and justified in a letter of support but must not be included in the non federal PI's SF-424 budget documents. These costs should also be included in the budget summary on each application's title page and be identified in the Lead-PI institution's budget summary and budget justification described in Section IV.B.2. Funding to cover standard Laboratory overhead costs at a pre-agreed upon rate will not be applied against the 20% maximum of federal costs. All funding requested by a federal institution, to cover overhead or otherwise, will count against the maximum total project cost as specified for the competition (Section II.A), and the proposed project-total cost must not exceed that limit. The request for these funds will be considered by the WPO Program Manager and, if approved, will be provided directly to the NOAA organization if the proposal is selected. If this proposed funding is not properly and clearly documented, the application may be rejected without review.  The need for federal NWS forecaster travel support for NOAA Testbed activities must be determined and coordinated with the relevant Testbed Manager(s). Requested support for federal NWS forecaster travel for testbeds may be renegotiated pending availability of NOAA Testbed resources following coordination with NOAA Testbed Managers.
For Federal collaborators (without funding) involved in this competition, is there a required form?
Unfunded Federal collaborators should provide to the external PIs a completed Collaborator Form, which can be found under the "Related Documents" tab of the NOFO on Grants.gov. The Letter of Support is optional, please refer to the decision chart above.
In determining eligibility, the Request for Proposal states that contractors for the Federal government have the same eligibility restrictions as Federal employees. Does the word "contractors" refer to or apply only to on-site contractors who are dedicated staff at a NOAA facility, or does it refer to the US based commercial organization as a whole if that commercial organization bids on Federal procurements?
The limitation is on Federal contractors, i.e., contractors working directly for a government agency. As long as the commercial organization is proposing work that is separate from any contractual work done for NOAA (or any other agency), then they are eligible.
Can a scientist from another Federal agency be a Co-Investigator on a proposed project?
Collaborators from any other non-NOAA Federal agency are welcome, but they are ineligible to receive funding.
Can you provide an example of travel, equipment, and especially the overhead /infrastructure costs that can be covered for Federal collaborators?
Eligible costs for Federal collaborators include travel and equipment purchases that are project-critical and cannot be covered by the external funded institutions. For example, use of government-provided hardware or travel to a field site that is not otherwise covered by the Federal institution. Details are included in Section IV.B.1 (pages 12-13) of the NOFO.
Do proposals need to focus only on the priorities directly in the NOFO, or does it also need to address priorities in the supplemental documents?
Proposals are judged based on the priorities in the NOFO, and the information sheets build upon those.
How does WPO address diversity & inclusion for funding projects?
A section Diversity, Inclusion, and Accessibility is required for each proposal. Applicants should articulate how the proposed project furthers their institution's commitment to diversity and inclusion. The purpose of this section is to encourage increased involvement in WPO's research and development of a diverse range of participants. This may be accomplished through recruitment of a diverse team, partnerships with diverse and/or underrepresented institutions, identification of broad societal benefits, and any other initiatives that build the capacity of and materially foster a diverse and inclusive research team and environment.
How are subawards handled?
If a subaward agreement has been arranged with their funded co-PIs such that the full award amount will be distributed directly from NOAA to one institution, then only one project proposal must be submitted (by the Lead-PI's institution) to Grants.gov. Any institutions receiving funding through a subaward by another institution and not directly from NOAA are not required to submit a full proposal. However, the subaward should be clearly listed in the full proposal's budget narrative immediately below the budget table (Section IV.B.3.n).
How do I submit a multi-institution proposal?
For joint projects involving applications from multiple institutions, a PI must be identified for each institution submitting an application. All applications for that project must have the same title and identify the same Lead PI, Co-PIs, and Co-Is on the applications' title page. The designated Lead PI and their associated institution will then be responsible for additional documents as described in Section IV.B.3.  For collaborative proposals that include multiple applications, each partner or PI institution wishing to receive funds directly from NOAA is responsible for submitting to Grants.gov separate proposal packages with identical project titles, title pages, project narratives, and project start dates. If any non-federal institution proposed to receive funding directly from NOAA as part of a multi-institution collaborative project fails to submit a full proposal, then all partner proposals may be rejected without review, unless a subaward agreement has been arranged. Federal institutions may not submit a proposal.  All external proposal package components must be identical among all separate proposal submissions to Grants.gov for a multi-institution collaborative project, with two exceptions: 1) each institution's separate budget information tables and budget justification (which will apply only to their own institution's portion of the collaborative project and not the budgets for any other funded institution); and 2) any other institution-specific documents. Each identical title page must list all funded and unfunded PIs and their institutional affiliation(s), even if from a separate funded institution, for a given joint project. 
Will a NEPA statement be required?
A NEPA statement is not required as part of the proposal. However, a NEPA evaluation will occur if the proposal is selected for funding, in which case the Program Manager may require additional information to complete the assessment.
If you have a project that spans multiple competitions' priorities, can you submit an LOI to multiple competitions to help find the best fit?
It is recommended that an LOI is submitted to only one competition, and the WPO programs may then provide guidance if the project appears better suited to a different one.
Does a private sector PI need to have a NOAA collaborator?
A NOAA collaborator is not always required. For example, if the proposed work does not intend to be transitioned to NOAA operations or other applications within NOAA, then it may not need NOAA's input.
For private sector organizations serving as PIs, how valued is it to have academic Co-PIs?
No requirements regarding PI affiliations are in place.
International subcontracts: The call for proposals states clearly that no foreign applicants may request funding. However, is it possible for a US applicant to subcontract a foreign entity? For example, if I were to lead a project from Tufts University, could I include a subcontract for the Red Cross Red Crescent Climate Centre in the Netherlands?
International subcontracts may be acceptable as long as all federal funding initially is awarded to an eligible U.S. applicant, AND the international collaborator is not in conflict with U.S. foreign policy. That is to say, we cannot directly make an international award, but as long as your institution takes responsibility for the funding transfer and any associated administrative tasks and costs, then we should be able to make the full award to your institution, as with a domestic subcontract.
We are receiving equipment from a foreign company. Is this allowed, assuming my research institution is able to make such a purchase order?
As long as the foreign entity is not requesting funding as part of the proposal, then the use of foreign-provided equipment is permitted, assuming it is not in violation of U.S. foreign policy.
How should we handle a NOAA-funded no-cost extension on our current & pending support section?
Please list the award but note the dates of the no-cost extension. It will be helpful to know that no new funding is being allocated, but may still be used to ensure the PI is not being funded beyond 100% of their time in a given year.
Are awards from this competition allowed to request no-cost extensions?
No-cost extensions are permitted in certain circumstances at the end of the award period as long as no new work and no new funding are required. An extension may be requested near the end of the award, and the Program Manager will work with you if it is necessary.
Cost is listed as comprising 10% of the final score. Can you expand on how this is evaluated?
Cost is evaluated in terms of relative value of the funding requested. Reviewers will consider the impacts and benefits relative to the cost of each proposal. Think, "How much bang-for-the-buck will result?"
What is the funding maximum per year for the competitions?
Each competition sets its own funding maximum. Check Section II.A (page 7–8) in the NOFO for each program's award ceiling.
How does WPO calibrate the scores across different reviewers?
Each program provides reviewers with a program-specific set of instructions and rubric, so the scores are calibrated within each competition.
Do I have to use NWS/NOAA data in my project or is weather data obtained from the private sector permissible?
Data from any source may be used in projects funded through these competitions.
Full applications must be received by 5:00 pm Eastern Time (ET) on November 16, 2023.