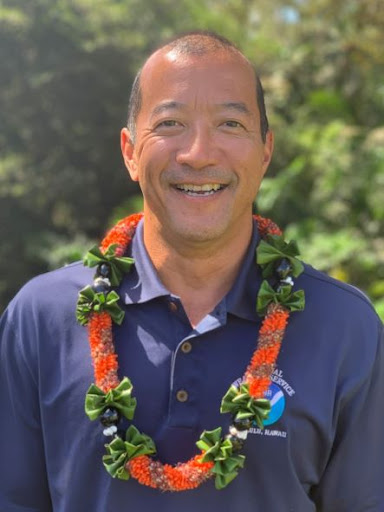 Ray Tanabe
Acting Director, Weather Program Office
Ray Tanabe is currently serving as the Acting Director of the NOAA Weather Program Office (WPO). He is honored to build upon the accomplishments of Dr. Dorothy Koch, and lead this talented and diverse team that is responsible for funding and fostering the advances in weather research. This research is vital in preparing the nation for the increasingly severe and impactful weather that accompanies climate change. In addition to leading WPO, Ray will be OAR's Weather Portfolio Steward, leading and coordinating OAR Laboratories and Programs to advance weather research.
Ray steps away as Director for the Pacific Region of the National Weather Service, serving in this position since July 2013. In this role, Ray oversees offices in Hawaii, the Territories of Guam and American Samoa, Puerto Rico, the Republic of Palau, the Federated States of Micronesia, and the Republic of the Marshall Islands. The unique geography of the region includes the only NWS offices in the eastern and southern hemispheres and spans 11 time zones. Together these offices issue a vast array of forecasts and warnings covering everything from day to day weather to hurricanes and tsunamis.
After completing his Master's Degree in Meteorology from the University of Hawaii while a Student Career Experience Program intern at the Weather Forecast Office (WFO) Honolulu, Ray began his full time NWS career as a meteorologist intern at the WFO Los Angeles Oxnard in February 2000. After returning to Hawaii in 2003 as a general forecaster at WFO Honolulu, he was promoted to senior forecaster in June 2006, Warning Coordination Meteorologist in April 2007, and Director of Operations in August 2010. From May 2011 through July 2013, Ray served as the Meteorologist in Charge of the Weather Forecast Office (WFO) Honolulu and Director of the Central Pacific Hurricane Center.
Born and raised on the north shore of Oahu in Hawaii, Ray's personal interest in weather started at a young age. He grew up outdoors – surfing, fishing, free-diving, hunting, hiking, backpacking and playing sports. He was fascinated how winds, waves, and rain influenced nearly all of his outdoor activities. Ray continues to run, swim, hike, paddle, fish, and hunt in his free time. His fascination with weather and its effects on everyday life continues to drive his career in NOAA.
808.745.4645