The Earth Prediction Innovation Center (EPIC) and the Unified Forecast System (UFS) community are proud to announce the public release of the UFS Short-Range Weather (SRW) Application version 2.2.0. This release introduces a number of changes since its previous v2.1.0 release from November 17, 2022. These changes reflect updates currently available in the develop branch. The SRW Application is designed for short-range weather forecasts at regional scales and time scales from minutes to several days. This modeling system includes all of the pre- and post-processing capabilities needed to run an end-to-end forecast, from defining a model grid to generating graphics plots of the model forecast field output.
The v2.2.0 release includes the following updates:
Expansion of workflow capabilities to handle and configure separate workflow tasks
Support for changing the number of model vertical levels
Support for the RRFS_NA_13km grid and FV3_RAP physics
Addition of FV3_RAP and FV3_GFS_v17p8 physics suites, as well as many updates to CCPP physics schemes.
Expansion of several test cases and suites for workflow end-to-end (WE2E) testing
Support for MET (v10.1.x) and METplus (v4.1.x) verification, with test cases showing examples of verification capabilities
Addition of new Tier-1 High Performance Computing (HPC) platforms: Gaea C5, Hercules, and Derecho
Transition to software modules installed and maintained using spack-stack v1.4.1 for supported Tier-1 HPC systems.
Incorporation of Air Quality Modeling (AQM) capabilities (unsupported but available).
A number of minor bug fixes and code improvements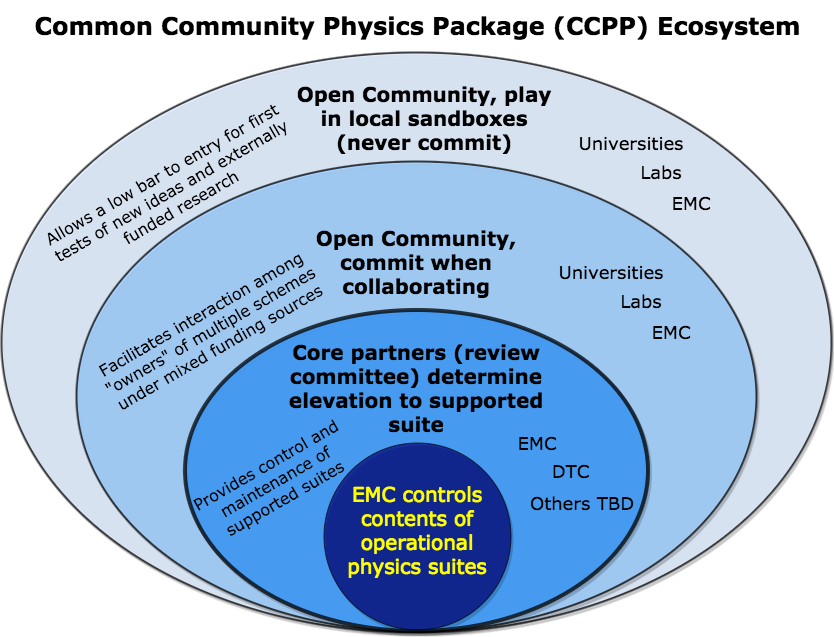 User Support Information: The User's Guide for the v2.2.0 release contains detailed instructions on building, configuring, running, and testing the Application. The User's Guide corresponds to the current v2.2.0 release and reflects the latest improvements; numerous test cases with all associated data files are also available to the public in the SRW App S3 data bucket. For additional support, users can peruse GitHub Discussions and submit new questions under the Q&A category. Users are also encouraged to explore resources on the EPIC website, which includes tutorials, technical FAQs, and information on upcoming events.
Data: Fixed data (including climatological and topographic data), model input data, sample test cases, and NaturalEarth geographical data for graphics generation are available as compressed tar file bundles. They can be accessed from the publicly available AWS S3 bucket.
Platforms: As outlined in the User's Guide, the UFS SRW Application is highly portable and has been successfully tested and used on a wide variety of platforms, from High Performance Computing (HPC) systems to smaller platforms such as Linux clusters and MacOS. Additionally, Docker images containing the full software stack and pre-built UFS SRW Application with the current version are available for download or conversion to Singularity/Apptainer containers. The containers can be used to run through the full workflow on high-performance computing systems with Linux OS, a job scheduler/workload management software (slurm, PBS), Intel compilers and MPI from the Intel OneAPI Toolkit (year 2021 or newer). Future work will expand the capabilities of the Application to include data assimilation (DA) and a forecast restart/cycling capability.
Contributors [in alphabetic order]: The SRW Application Release Working Group includes members from NOAA laboratories, centers, cooperative institutes, and community partners — notably the Air Resources Laboratory (ARL), the Cooperative Institute for Earth System Research and Data Science (CIESRDS), the Cooperative Institute for Research in the Atmosphere (CIRA), the Cooperative Institute for Satellite Earth System Studies (CISESS), the Cooperative Institute for Severe and High-Impact Weather Research and Operations (CIWRO), the Developmental Testbed Center (DTC), the Earth Prediction Innovation Center (EPIC), the Geophysical Fluid Dynamics Laboratory (GFDL), the Global Systems Laboratory (GSL), the National Center for Atmospheric Research's (NCAR's) Climate and Global Dynamics (CGD) Laboratory and Research Application Laboratory (RAL), the National Centers for Environmental Prediction/Environmental Modeling Center (NCEP/EMC), the National Severe Storms Laboratory (NSSL), and the Physical Sciences Laboratory (PSL).

The development of the spack-stack software used by the UFS Applications is a collaborative effort among the Joint Center for Satellite Data Assimilation (JCSDA), EMC, and EPIC. The code is hosted on GitHub. Publicly available data is provided via an AWS S3 bucket established as part of the NOAA Open Data Dissemination (NODD) Program. Computing resources used for preparation of this release were provided by NOAA High Performance Computing and Communications (HPCC) Program and NCAR Computational and Information System Laboratory (CISL).
This release was funded by the NOAA Weather Program Office's Earth Prediction Innovation Center Program (EPIC), Fire Weather and Air Quality, and Joint Technology Transfer Initiative (JTTI) programs; the National Weather Service Office of Science and Technology Integration (OSTI) modeling programs; and the NOAA Disaster Supplemental Program.