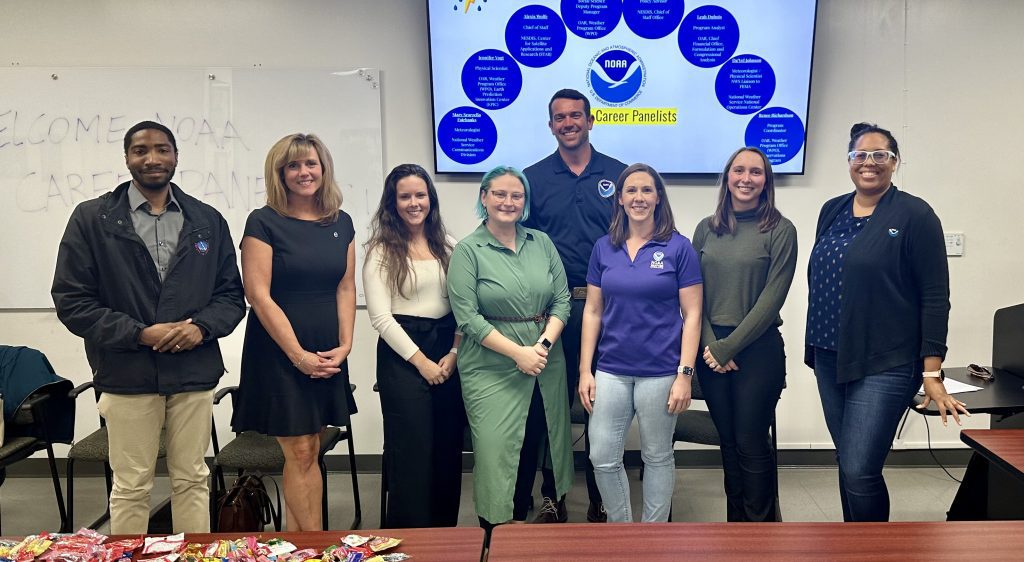 A panel of eight NOAA federal employees and affiliates joined the University of Maryland American Meteorological Society (AMS) Student Chapter on November 6 for a dynamic conversation on careers in NOAA! The panel was made up of representatives from NOAA National Weather Service (NWS), NESDIS, and Oceanic and Atmospheric Research (OAR) in various positions across the agency.
Three of WPO's own served as panelists representing OAR: Cassandra Shivers-Williams (Social Science Deputy Program Manager), Jennifer Vogt (EPIC Program Physical Scientist), and Renee Richardson (Observations Program Coordinator).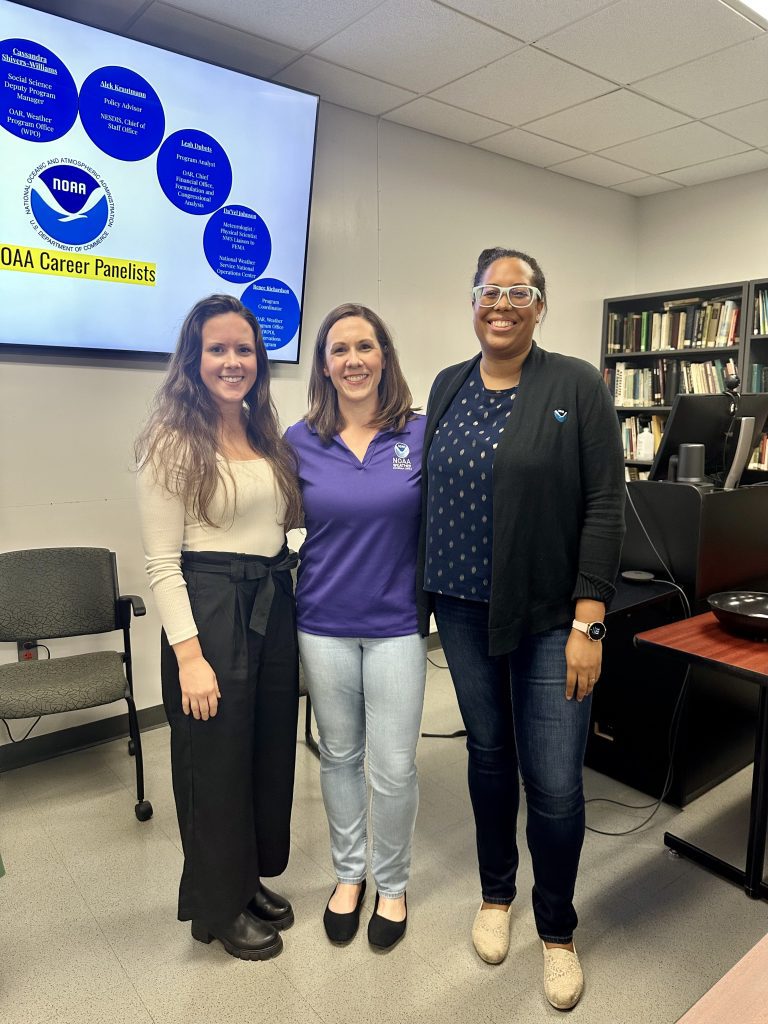 During the panel discussion, students gained valuable insights and heard anecdotes from the panelists, covering a range of topics related to employment within NOAA. The discussion highlighted what science policy can look like, internal and external communication practices within NOAA, social science within the Agency, and program coordination roles. The students also learned how the core missions and functions differ across NOAA laboratories, Weather Forecast Offices (WFOs), and Program Offices and how that influences varied tasks undertaken by employees.
The WPO panelists enthusiastically answered questions about the role of WPO, elaborating on its significance in advancing the overall NOAA mission. They also addressed questions about how students can increase their involvement and explored the opportunities available during the transition from completing their degree to entering the workforce.
The students were curious about the details of each panelist's position within NOAA and were interested in learning more about student opportunities for internships and jobs, job application advice, and career paths of employees and their personal experiences at NOAA, including how NOAA encourages and instills work life balance practices for its employees. The panelists from WPO found the students of the UMD AMS Chapter to be a bright, inquisitive, and motivated group, and they are eager to see what is in store for them, especially if their path leads them to NOAA!