Bradford Johnson, Ph.D. is a meteorologist; subject matter expert on urban climate, GIS, and remote sensing and Program Strategist for National Earth System Prediction; and the OWAQ Subseasonal to Seasonal program. Since joining OWAQ in 2017, Brad has helped effectively sustain relationships with five federal agencies — U.S. Navy, U.S. Air Force, Department of Energy, National Science Foundation and NASA — through facilitating ESPC and S2S workshops and working group collaborations to support NOAA and OWAQ's mission and the Weather Research and Forecasting Innovation Act of 2017.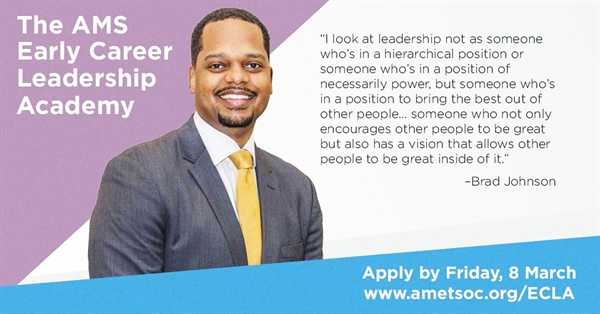 As a program strategist, Brad supports the progression of the collective federal weather enterprise by helping to prioritize the Research to Operations efforts, taking part in the first OAR/NWS model inventory construction, a resource highlighting NOAA accomplishments. This model inventory will link cross-agency, emphasize the innovations of subject matter experts and developers and make lasting impacts on our nation's ability to protect life and property and to encourage economic vitality.
Brad is also an inaugural member of the AMS Early Career Leadership Academy and a member of the National Weather Association and the American Geophysical Union.
Visit us again to get the full story about Dr. Bradford Johnson.